By Martin van den Hemel – Richmond Review
posted Jun 19, 2014 at 11:00 AM
"The Walt Disney flick Honey, I Shrunk the Kids, might come to mind when shoppers enter the atrium at Aberdeen Centre, which is now crawling with gigantic, marauding insects that wouldn't have been out of place in the Steveston-filmed Godzilla movie.
Giant Bugs Take Over Aberdeen Centre is a fantastical new exhibit that starts July 1, featuring six humongous insects brought to life via animatronics.
There's a 16-foot-long locust that rears up and spreads its 21-foot-wide wings, as though it were about to leap over the mega-sized grass blades and into the air.
A Chinese praying mantis serves as an imposing greeter to the exhibit, stretching more than 21 feet and facing the mall's front entrance.
There's a pair of 20-foot black horned fighting beetles, a stick insect, and a caterpillar, too.
All this, along with an interactive bugs head display, comes courtesy Kokoro Exhibits, based in Woodland Hills, California.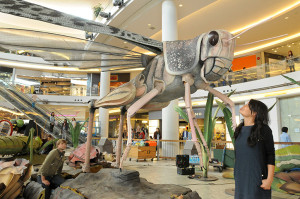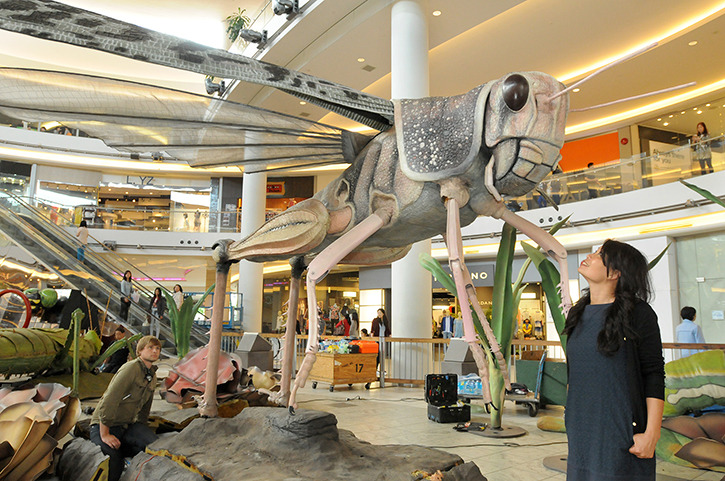 Shane Dzicek said it will take him and his team about three days to set up the display. The six giant insects were created after consultation with biologists to ensure the proportions and colours of the creatures was correctly replicated, he said.
The insects are made of foam and silicone, with aluminum subframes, Dzicek said.
Customers are also dared to chomp down on some genuine bug food, which Aberdeen Centre's Joey Kwan has herself tried, and she survived the experience.
She hopes the exhibit meets the mall's goal of being fun, interactive and educational for everyone.
The exhibit runs through Sept. 1."