Dinomania Returns to the MOST with a new, immersive experience
Dinomania 2014 is returning to the Milton J. Rubenstein Museum of Science & Technology beginning Sept. 27. The popular animatronic dinosaurs, which were created by Kokoro Exhibits with input from paleontologists to be as scientifically accurate as possible, are shown in scenes that depict what life was like for them in the Mesozoic Era.
In one scene, two Pachycephalosaurs butt heads in a show of dominance, much like bighorn sheep are known to do today. In another, a Maiasaura mother tends to a nest of hatching eggs, like birds do today. A third scene will include one of the largest creatures to walk the earth, Tyrannosaurus rex.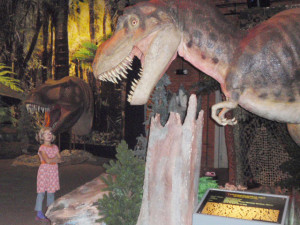 The exhibit also includes a remote-control dinosaur frame to explain the technology behind Kokoro's dinosaurs, a dino dig box, rub stations and more. Coupled with information and hands-on activities from MOST educators, Scenes of the Dinosaurs will excite children while teaching them real science about the planet millions of years ago.
This is the sixth time the MOST has hosted an exhibit of Kokoro dinosaurs. Earlier appearances were in 1989, 1994, 2000, 2006 and 2011. This year's dinosaur exhibit will be the best one yet. Not only are we bringing back Tyrannosaurus rex, but the staff is creating an immersive experience that incorporates video, sound, and lighting to convince guests that they have traveled into the past.
The MOST is hosting many events tied to the exhibit, including:
Opening Day activities will include a talk by Martin Welych-Flanagan, a Bishop Grimes High School rising freshman and aspiring paleontologist, on how scientists' understanding of dinosaurs has changed by examining fossils and tracks. The talk will be at 1 p.m. on Saturday, Sept. 27.
MOST educators will be stationed in the Dinomania exhibit from 11 a.m. to 4 p.m. on weekends, holidays, and school vacations throughout the exhibit's run to answer your questions about the "terrible lizards" on display. Free with exhibit admission.
Oct. 15 is National Fossil Day, and we will be celebrating it on Oct. 11 from noon to 2 p.m. with a live remote from The Dinosaur radio station, WNDR out of Mexico, NY. We will also have dinosaur fossils on display, and other fossils that you can take home with you.
A dinosaur-themed Halloween event on Oct. 25. Come as your favorite dinosaur or Mesozoic Era creature and listen to a talk by Warren Allmon, director of the Paleontological Institution and its Museum of the Earth. The talk, about dinosaur art, will be at 11 a.m. Saturday, Oct. 25.
Dreaming with Dinosaurs on Oct. 25, a chance to spend a night at the museum and sleep amid the silenced beasts. Enjoy dinosaur activities, an IMAX movie, and a planetarium show before bedding down between the Cretaceous creatures. The once-in-a-lifetime event costs $30 a person for members, $40 a person for nonmembers.
The November TACNY Junior Café Scientifique talk on Nov. 15 will feature Linda Ivany, director of undergraduate studies and professor of Earth sciences at Syracuse University, discussing what killed the dinosaurs and how we know. The talk will be at 9:30 a.m. Saturday, Nov. 15, and is sponsored by the Technology Alliance of Central New York.
The MOST is also bringing back a favorite movie, "T-Rex: Back to the Cretaceous." In the movie, the teenage daughter of a paleontologist is transported back 65 million years and encounters a 20-foot-tall, 15-ton Tyrannosaurus rex. Seeing the movie in the larger-than-life screen of the dome Bristol IMAX® Omnitheater will make it seem like you, too, are in the Cretaceous Period.
We also have a special planetarium show, called The Changing Universe, that talks about how our perspective of the stars from Earth has changed from the time of the dinosaurs and why it's so hard to predict. The show will be offered at 3:15 p.m. on Sept. 27, Oct. 25, and the entire month of November. Planetarium shows are free for members, although we ask that you pick up a ticket at the Admissions Desk to ensure a seat, and $2 a person for nonmembers.