Kokoro Exhibits has done it again! With a successful exhibit at the South Carolina State Museum, giant insects took flight and brought in a large audience this Janury 2015! The exhibit will continue throughout August 2015, showing a wide array of giant, moving creepy crawlies to the public.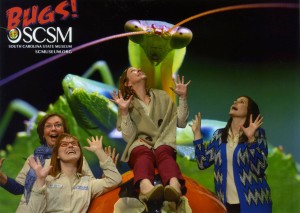 South Carolina State Museum had a great opening weekend. The insects outperformed their 4D Theater as well as their Planetarium. Audiences were able to shrink down to size and experience the world of insects through their perspective. To learn more about this exciting exhibit, please visit our partner's website, the South Carolina State Museum, to learn more.
Kokoro Exhibits is a proud provider of quality museum aniamatronics. We host events featuring our amazing dinosaurs, realistic Ice Age mammals, and magnificent giant insects for communities all across the United States and internationally! For over thirty years we have dedicated ourselves to educating the public about these magnificent creatures while bringing forth the joys of learning. No matter what budget or kind of display you are looking for we can meet your budget and exceed your needs. Thank you!